Discover more from Belonging and the Human Experience
Letters on identity, culture, loneliness, ethnicity, race, diaspora, health, and social connection
Over 2,000 subscribers
A Four Week Advent Series: Week 3 - Waiting in Joy
Having trouble viewing this? Click here to view this email in your browser
If someone forwarded this to you, and you want to subscribe, please click here. If you found me via the 30 Prayers Ebook, keep reading to learn more!
Beauty Abounds
December 11, 2022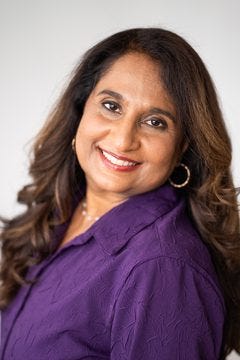 A Four Week Advent Series: A Time to Wait Week Three: Waiting in Joy
Dear ,

Hello faithful reader! I'll be quietly delivering an Advent devotional to your inbox early each Sunday morning for four weeks, as my special gift to you this Advent season. You can find Week One of the Advent series, on Hope, and Week Two on Faith,

If you're new around here, you probably found me through the 30 Prayers For When You Feel Lonely and Left Out Ebook. I write about belonging, identity, loneliness, culture, feeling like an outsider, faith, and finding beauty in this broken yet beautiful world.
image source: me
Those "Stabs of Joy"
"Stabs of joy."
Have you ever felt a "stab of joy"? Have you felt "joyous aches" from seeing places of beauty, a forest, a waterfall, a sunset, reading a moving poem, or hearing the laughter of children?
The term actually comes from C.S. Lewis. He talked about a "desire which pierces us like a rapier at the smell of bonfire, the sound of wild ducks flying overhead, the title of The Well at the World's End, the opening lines of 'Kubla Khan,' the morning cobwebs in late summer, or the noise of falling waves." He described it as "that unnameable something."
C.S. Lewis called it "that sharp, wonderful stab of longing." Lucy Maud Montgomery (author of the Anne of Green Gables series) referred to these as "flashes," where we find life to be "a wonderful, mysterious thing of persistent beauty." ('That is certainly how Anne Shirley, one of her main characters, viewed life.)

I don't know about you, but I love the idea of being struck with "stabs of joy." It does fill me with longing, with a desire for the beautiful, for warmth in friendship, an ache for pleasant things. I want to continuously find these "flashes" that are filled with longing and joy and the soaking in something achingly beautiful. Is it possible to live this way?
I would like to suggest, yes, we can. We can live life with that kind of expectation. In her stunning Advent devotional, Heaven and Nature Sing, author Hannah Anderson describes nature as an "unexpected ally in the work of hope." The earth, and all its glory, and all of nature, is shouting of hope and joy. The earth is "our partner in hope, longing for freedom in life and glory as much as we do," writes Anderson.[1] All heaven and nature sing, and we're singing of joy together.
Until I read that in her devotional, I hadn't thought of it that way before: to be allies in hope and joy with nature. What a thought! No wonder we find stabs of joy all around us in the natural world; the earth is shouting in joy.
On the night of Jesus' birth, angels appear before shepherds who were watching their flocks at night. "Don't be afraid, for look, I proclaim to you good news of great joy that will be for all the people." After his proclamation a whole host of angels joined the one angel, saying "Glory to God…"
Angels appearing to shepherds is the fourth appearance of an angel. An angel appeared to Zechariah, an angel appeared to Mary, and an angel appeared to Joseph in a dream about Mary.
God could have made an entire Northern Lights kind of message in the sky and made it visible to the whole world. God could have sent angels all over the world making birth announcements. God had the entire skies and creation at his disposal. But that is not what God chose.
God chose deliberately to have angels appear. As Anderson writes, the miracle is not the angels themselves; it's that they appear.[2] These aren't normal occurrences. Whenever they show up, they have to say, "Do not fear!" The miracle, the joy, is that they're visible. These supernatural beings show up in a way so that physical human beings can actually see and hear them.
"Reality is not bound by human senses," writes Anderson. "The limits of our physical bodies are no standard for what is true and what is not."[3]
That was a joyful announcement. An unexpected stab of joy.
When we're struck by something beautiful, miraculous, unfathomable, we can only submit to the awe, wonder, mystery, and joy of it.
We know that the hard, the dark, the illness, the difficulties will be with us in this life.Yet even so, there is exquisite beauty.
I want to live in anticipation of the next stab of joy. We aren't alone; all of creation, here on earth, and angels in heaven, is also expectantly waiting, along with us, for the fulness of all joy, permanent joy.
***

[1] Hannah Anderson, Heaven and Nature Sing: 25 Advent Reflections to Bring Joy to the World, B&H Publishing Group, 2022) p. 7
[2] Anderson, p. 97
[3] Anderson, p. 99


***
Questions for Reflection:
What was your latest "stab of joy"?
What about the Advent season brings you joy?
What can you observe in creation this week that speaks of joy?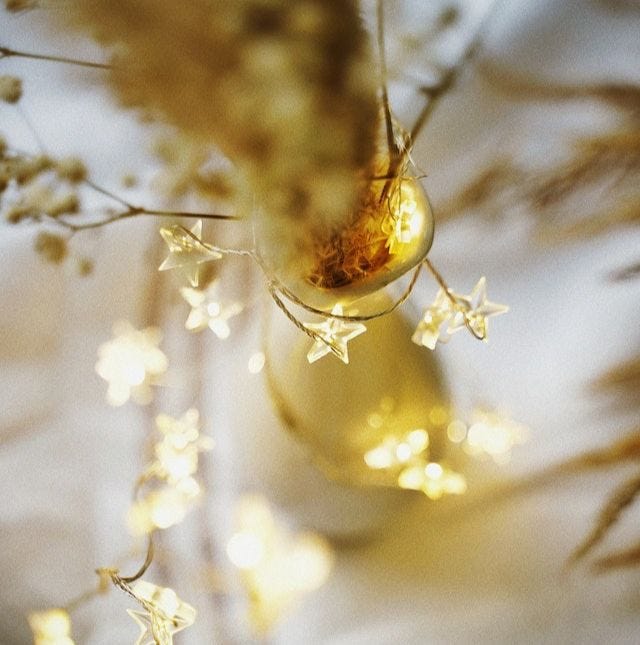 Image credit: pexels
The Risk of Birth
by Madeleine L'Engle
This is no time for a child to be born.
With the earth betrayed by war and hate
And a nova lighting the sky to warn
That time runs out and the sun burns late.
That was no time for a child to be born.
In a land in the crushing grip of Rome;
Honour and truth were trampled by scorn—
Yet here did the Saviour make his home.
When is the time for love to be born?
The inn is full on the planet earth,
And by greed and pride the sky is torn—
Yet Love still takes the risk of birth.
The Journey of Seeking and Finding

I was interested in this painting of the wise men above by Tissot because of its uniqueness. The focus here seems to be on the journey itself, instead of a scene of worship at the stable. Why did the artist choose to paint this part of the journey? How often do we stop to consider this journey? They were traveling in anticipation of the joy of finding something special beneath that star they saw in the sky.
In the scene above, we see many travelers. Who are they? Where are they going? Are they part of the wise men's entourage? (Did they have an entourage?)
I found a short description of that painting:
"Complementing the narrative of the venerations by the humble shepherds, the Magi, guided by a moving star, traveled separately from their individual lands in the east in search of the newborn Jesus. Tissot depicts the Magi at the moment when their retinues meet in the vast, arid landscape of the volcanic hills on the shores of the Dead Sea between Jericho, the Kedron Valley and Jerusalem. In his commentary, the artist notes that their flowing saffron robes—a luxurious counterpoint to the simple woolens of the shepherds—signal their status as astronomers." (Source)
The description above says they came from various places and met on the shores of the Dead Sea. Furthermore, they had an entourage, and that makes sense. It doesn't make sense they'd travel miles and miles all alone. What compelled them to leave their homes and travel?
Accustomed to Seeking
Something new burned in the sky that night; an astronomical object or other supernatural phenomenon. These Wise Men from the east were aware of the usual night sky occurrences, and on this particular night, they knew something was different. They said later to Herod, after they had traveled to find the baby Jesus, "we have seen his star…" (Matthew 2:2). They referred to him as the "king of the Jews." They told Herod they came to worship him.
The magi were regularly seeking signs in the sky. They were used to looking. They were accustomed to seeking. Once they saw the star, they knew it was "his star" and they began their journey. The journey took months. We do not know the exact number who came, but we do know the gifts they brought (gold, frankincense, myrrh).
I wonder if anyone else noticed the phenomenon in the sky that night. Were so few people looking and noticing? Or, did they notice, but didn't know what it meant? Perhaps some looked, marveled, but then turned back to their business and lives, quickly forgetting the mystery and wonder of the night sky. It makes one wonder how no one else noticed such an unusual night sky event!
Or was the star only visible to the Wise Men? We do know the star "led" them; did it seem to move?
God's Creative Power

These men knew the meaning of what they saw in the sky and who they were going to see. In Matthew 2:9 we read "…and the star they had seen when it rose went ahead of them until it appeared over the place where the child was." The star itself seemed to direct them.
Once again, God could have rearranged the stars to proclaim a heavenly birth announcement. I'm amazed at God's restraint of such creative power. God chooses intentionally who to appear to and when. I like to think God was bursting at the seams and couldn't wait to tell someone the good news that Jesus was born.
Yet God chose to direct wise men from the east, using an extraordinary star and to send angels to appear to lowly shepherds.
Today's Instantaneous World

Nowadays, an image can travel instantaneously online to almost anywhere on the planet. A live scene can be broadcast as it is happening all over the world. It's astonishing, really. And people, all over the world, are using this medium to broadcast themselves all over the planet, too, as millions are competing for a voice in the online melee. It's interesting how many feel the need to post every detail of their lives on social media. News of any kind, good or bad, is heralded on any number of social platforms. Isn't that fascinating? Where is our restraint?

Vectors Accustomed to the Night Sky
God chose two unlikely vectors: shepherds and wise men from the east. Both were familiar with the night sky; shepherds stayed up at night protecting their flocks, and the wise men were used to looking at the night skies. With all of the tools at God's disposal, the ability to move a star, to control the waves and wind, God restrained himself from making the world's biggest birth announcement. There was a reason and wisdom behind this choice he made, the methods and means he chose.
The magi were accustomed to seeking and God gave them the gift of finding. It's pretty remarkable. They were traveling in anticipation of finding great joy under that star.
When they saw the star they "rejoiced with exceedingly great joy." And when they found Jesus, they fell down and worshiped him. Imagine their relief and joy after traveling several long months to reach their destination. They waited in joy—and their journey was rewarded.
Where did the magi come from? One source says at least one came from the Indian subcontinent. It's interesting that holy men in India today wear long saffron-colored robes. So do Buddhist monks in Southeast Asia. Something to ponder.
Reading the details of this painting was enlightening to me, personally. There is so much about this story we don't fully know or understand. It's a mystery—and it's a wonder to unpack the details. Indeed, part of the joy and wonder of it is the mystery of how these things came to be.
May your wait this season be filled with joy and wonder and may you find joy at the end of your seeking!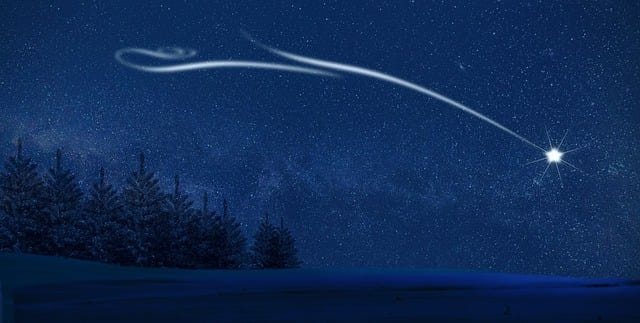 Image source: Pixabay
For Further Reading and Reflection
Heaven and Nature Sing: 25 Advent Reflections to Bring Joy to the World by Hannah Anderson (a thoughtful and meaningful Advent devotional)

Brown Baby Jesus by Dorena Williamson (a beautiful children's book but enjoyed by all ages!)
2022 Telescope Space Advent Calendar (an amazing photo from outer space each day during Advent)
Image credit: pixabay
Poetry

Breath
by Luci Shaw
When, in the cavern darkness, Jesus
opened his small, bleating mouth (even before
his eyes widened to the supple world his
lungs had sighed into being), did he intuit
how hungrily the lungs gasp? Did he begin, then,
to love the way air sighs as it brushes in and out
through the portals of tissue to sustain
the tiny heart's iambic beating? And how,
fueled by air, the dazzling blood tramps
the crossroads of the brain like donkey tracks,
corpuscles skittering to the earlobes and toenails?
Bottle of the breath of God, speaking in stories,
shouting across wild, obedient water, his voice
was stoppered only by inquisition, unfaith
and anguish. Did he know that he would,
in the end, leak all his blood, heave a final
groan and throw his breath,
oxygen for the world, back to its Source
before the next dark cave?

,

Thank you for being here, dear reader. Your presence is a gift. If this is your first newsletter from me, you probably subscribed from my website, signed up for the free 30 Prayers for When You Feel Lonely and Left Out ebook, my Chai Recipe, When I Write booklet, or another giveaway. I'm so thankful you're here.
I share helpful links, resources, and inspiration once or twice a month, particularly in regard to belonging, identity, culture, faith, race, cultural intelligence, and loneliness. You are welcome to share this newsletter with a friend or anyone you think would enjoy reading. (Make sure you check your spam folder and move this email to your inbox.)

And, I love to hear from you. Hit reply and let me know what beauty you're witnessing around you, what you're reading, or something else that's inspiring you. It makes it feel like we're having a conversation and my words aren't ending in cyberspace. If there's a topic you'd like me to cover, please hit reply and let me know! If you're making your way through the 30 Prayers for When You Feel Lonely and Left Out eBook, I'd love to hear how that's going, too. If at any time this newsletter is not serving you, you can unsubscribe below.

Until next time, remember beauty abounds. What beauty and daily wonders surround you?
Make it a lovely one,
Prasanta
Let's Connect on Social Media
Copyright (C) *|CURRENT_YEAR|* *|LIST:COMPANY|*. All rights reserved.
*|IFNOT:ARCHIVE_PAGE|**|LIST:DESCRIPTION|**|END:IF|*

Our mailing address is:
*|IFNOT:ARCHIVE_PAGE|**|HTML:LIST_ADDRESS_HTML|**|END:IF|*

Want to change how you receive these emails?
You can update your preferences or unsubscribe

*|IF:REWARDS|* *|HTML:REWARDS|* *|END:IF|*