Discover more from Belonging and the Human Experience
Letters on identity, culture, loneliness, ethnicity, race, diaspora, health, and social connection
Over 2,000 subscribers
A Four Week Advent Series: Week 2 - Waiting in Faith
Having trouble viewing this? Click here to view this email in your browser
If someone forwarded this to you, and you want to subscribe, please click here. If you found me via the 30 Prayers Ebook, keep reading to learn more!
Beauty Abounds
December 4, 2022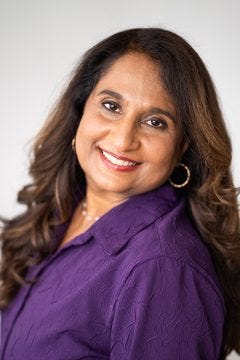 A Four Week Advent Series: A Time to Wait Week Two: Waiting in Faith
Dear ,

Hello faithful reader! I'll be quietly delivering an Advent devotional to your inbox early each Sunday morning for four weeks, as my special gift to you this Advent season. You can find Week One of the Advent series, on Hope, by .

If you're new around here, you probably found me through the 30 Prayers For When You Feel Lonely and Left Out Ebook. I write about belonging, identity, loneliness, culture, feeling like an outsider, faith, and finding beauty in this broken yet beautiful world.
Image source: This was painted in 2003 by a sister at the Mississippi Abbey in Iowa; it was later made into a Christmas card, and the picture went viral on the internet
The Second Week of Advent: Waiting in Faith
Are you waiting for someone, or something, to arrive this Christmas? What are you most looking forward to this year? Perhaps you are looking forward to the arrival of a loved one, or time with family and friends. Perhaps you are waiting for a special gift, or a few days off work or school.
Perhaps you are waiting for a sickness to go away, either for yourself or someone you care about. Perhaps you are waiting to emerge from a season of grief or depression.
Maybe you are awaiting the reconciliation of a relationship. Maybe you are waiting on God for some specific answers.
Our lists may vary, but we spend our days filled with hopeful expectation and anticipation.

Imagine a young girl, perhaps about 12-14 years old, engaged to be married. Imagine being visited by an angel and being told she will now carry a child, but not just any child—a very special child, the Promised One.
I'm sure Mary had different plans in mind in regard to her upcoming marriage and how her life would continue, and I can bet they didn't include this shocking new development.

She had a few choices in front of her. She could have fought with God. But what we see in Mary is an acceptance and joy. She receives this news with humility and gratitude. She says, "Let it be with me just as you have said." (Luke 1: 38).
Mary plans a visit to see her cousin, Elizabeth, who is expecting a baby of her own, the future John the Baptist. As soon as the baby in Elizabeth's womb heard Mary's greeting, the baby leaped. Mary's response to all of this is a song of praise, called the Magnificat (in Luke chapter 1).
Contrast Mary's response to the news of a baby with Elizabeth's husband, Zechariah. Elizabeth and Zechariah had been waiting for a child for years and were both very old. It's also unlikely and unfathomable news for them, that they might have a child at their ages.

Zechariah's response to this news was, "How can I know this is true?" Because of his response and disbelief, the angel told Zechariah he wouldn't be able to speak until the baby was born (Luke 1:13-20).
Two miraculous events. Two different responses.
I don't know about you, but I don't respond with much joy and gratitude when my plans fall to pieces—and they don't include life-altering ones, such as ones involving the birth of a prophesied Messiah, like in Mary's case. How quickly I am disappointed or frustrated when my plans don't work out the way I think they should.
This new development meant Mary was stepping into new territory in complete faith. She had no one to consult about how to raise this unique child. She couldn't search online what to do when an angel might suddenly appear with some unexpected news. There was no precedence for her situation.
I can't imagine what it was like to be waiting in faith in Mary's situation. What did it all mean, to birth the son of God? Would Mary and Joseph require some special how-to books? (They didn't exist.) There were no Twitter or Facebook friends to ask questions. How does one raise the Savior?
Mary found herself in a season of expectation and waiting that she couldn't ever have imagined.
The story is wildly incomprehensible, isn't it? It doesn't make sense in the midst of modern medical knowledge, which is still incomplete to us. We're still learning the mysteries of the human body. We can't make logical sense of this supernatural event.
Yet in our modern world, we flock to see movies of the unbelievable, filled with superheroes who can do the incomprehensible. We are entertained and moved by stories of fantasy and the superhuman. It almost makes this ancient story sound quite tame compared to the flashy tales of the modern world.

Our modern world has taken Christmas and made it about presents, trees, lights, food, Santa, and glitter. We've traveled a far distance from the humble beginnings where Jesus was born.
Faith is illogical. It makes no sense to our rational mind. If we can't prove it, how can it be? Yet there is something within us that draws us to mystery, to the inexplainable.
We are naturally inclined to mystery, but it's masked by activity, pain, or affluence. We aren't aware of what we need, we aren't prone to wonder, we aren't seeking the miraculous. We're plodding along in the ennui of the mundane or we're mesmerized by glitz.
We've stopped looking for miracles.

The season of Advent and Christmas invite us back into that place of mystery and wonder, where miracles and magic happen. The season asks of us:
Do you believe that magic, mystery, and miracle are still possible in our world today?
Can you hold space for wonder?
Can you wait for something beautiful, that your eyes cannot yet see?

Miracles do abound. But they don't often come flashing in neon or in large advertisements.
They are waiting for us to discover them, to seek them, to notice them. I think I would lose heart if I didn't believe they were still possible. Faith is believing that something beautiful is growing, even in the dark.

***
Questions for Reflection:
How can you draw closer to the mystery of this season?
What helps you find that place of wonder?
How can we better respond to our seasons of waiting?
Image: The Annunciation is an 1898 painting by the African America painter Henry Ossawa Turner
After Annunciation
by Madeleine L'Engle
This is the irrational season
When love blooms bright and wild.
Had Mary been filled with reason
There'd been no room for the child.
Jesus Through Middle Eastern Eyes

We're usually taught that Joseph and Mary traveled alone, with Mary riding on a donkey, and that they had a hard time finding a place to sleep and end up in a barn. Mary gave birth shortly thereafter and laid Jesus in a manger, and that is Christmas Day.
It's interesting to note how we've popularized certain aspects of the account of the story of Mary and Josep, which do not accurately reflect the culture of that day and time. The information below comes from Jesus Through Middle Eastern Eyes: Cultural Studies in the Gospels by Dr. Kenneth E. Bailey.* Consider the research of this scholar, who offers us a cultural context for what really happened on this historical journey.
The Census and the "Inn"
First, word had to go out well in advance about the census, because they didn't have any other means of communication, besides by foot or animal or wheeled cart. There wasn't email, or even a postcard announcement, advising folks to show up for the census. The information was sent in advance, and the trip logically wasn't something they planned for in a day.

Mary and Joseph were returning to Bethlehem, Joseph's hometown, for the census. Joseph knew people in his hometown. Joseph himself was a descendant of King David, and people would know him there, and his lineage. As an ancestor of David, he wouldn't remain bereft. Mary and Joseph didn't go to an unknown place. They were probably not coldly turned away when they were seeking shelter (as is sometimes depicted in our Nativity productions).
In addition, the word "inn" doesn't mean what we understand it to mean today, a commercial enterprise like a hotel. bed-and-breakfast, or an AirBnb. The word actually means a room off to the back of the house, a guest space. Homes at that time had two rooms, one for the family, and one for guests. There was an additional space, about four feet lower from the family room, where animals were kept overnight:

"A simple village home in the time of King David, up until the Second World War, in the Holy Land, had two rooms—one for guests, one for the family. The family room had an area, usually about four feet lower, for the family donkey, the family cow, and two or three sheep. They are brought in last thing at night and taken out and tied up in the courtyard first thing in the morning.
"Out of the stone floor of the living room, close to family animals, you dig mangers or make a small one out of wood for sheep. Jesus is clearly welcomed into a family home." **

Hospitality in Ancient Middle Eastern Culture
Our stories in the west depict Mary and Joseph traveling alone to Bethlehem and Mary giving birth alone. However, this is probably not the case.
Again, according to Dr. Bailey, in the original Greek, the text says "while they were there her days were fulfilled," which means she spent the last stages of her pregnancy there, in Bethlehem.
Furthermore, if there had been no space for them anywhere, they could have gone to Elizabeth and Zechariah's house, who are also their relatives. "From Bethlehem, you can get to any village in the hill country of Judea by one hour on donkey back," according to Bailey.
In addition, hospitality was a highly valued custom. It would have been unacceptable and shameful to turn away a descendant of David in the actual "city of David."

"To turn away a descendant of David in 'the City of David' would be an unspeakable shame on the entire village," Bailey writes.
Therefore, we can assume that Joseph's relatives welcomed Mary and Joseph into their home. Other women and village midwives were present to help Mary with the birth. Mary was not alone; she and Joseph were not alone. Their lineage and the culture of hospitality suggest otherwise.

We tend to view Scripture from our own cultural and ethnic context—our views on this story, as well as others, are informed by our own American/Western cultural context, whose hallmark is individualism and the self-made winner. Learning the culture and practice of the day offers us a richer and deeper context to the story.

No doubt, we'd have to re-do hundreds of Nativity scenes, rewrite songs, and change our entire romanticized version of the Nativity story to accept this version of the story as told through understanding the culture of Jesus' day. But isn't it truer? What a powerful testimony of hospitality!

There are other details in regard to the Christmas story, more than I have space to write, that Bailey writes about in his book.

That's quite a change from the story we were taught, isn't it? What do you think? What surprises you the most?


*Jesus Through Middle Eastern Eyes: Cultural Studies in the Gospels by Dr. Kenneth E. Bailey
**https://worship.calvin.edu/resources/resource-library/kenneth-e-bailey-on-jesus-through-middle-eastern-eyes/
***https://moodyaudio.com/products/christmas-through-middle-eastern-eyes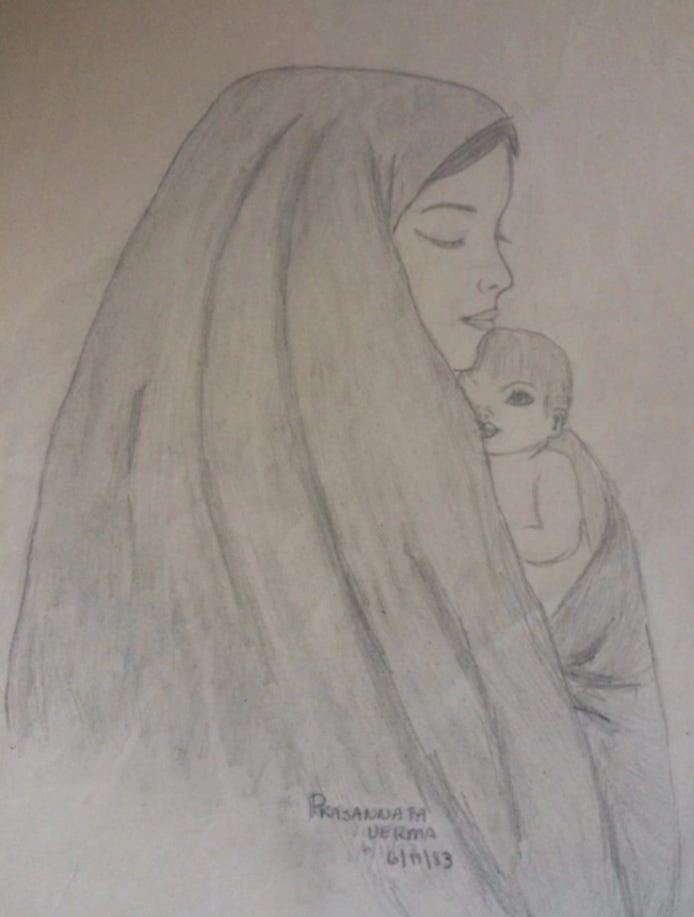 Image source: a drawing I made years ago; 8 1/2 x 11, pencil on paper
Further Reading and Reflection
Read Luke 1. Where do you find yourself waiting this season? How do you respond to the wonder and mystery of Jesus' birth?

Managing Expectations and Boundaries During the Holiday Season

When Christmas Hurts- Podcast at The Mudroom with author Abby Ball

Recommended Advent Reading: Accompanied by Angels: Poems of the Incarnation by Luci Shaw

Poetry

"…for who can endure the day of his coming?" ~ Malachi 3:2

by Luci Shaw


*
When an angel
snapped the old thin threads of speech
with an untimely birth announcement,
slit the seemly cloth of an even more blessed
event with shears of miracle,
invaded the privacy of a dream, multiplied
to ravage the dark silk of the sky,
the innocent ears, with swords of sound:
news in a new dimension demanded
qualification. The righteous were
as vulnerable as others. They trembled
for those strong antecedent Fear nots,
whether goatherds, virgins, worker
in wood, or holy barren priests.
*
In our nights
our complicated modern dreams
rarely flower into visions. No contemporary
Gabriel dumbfounds our worship,
or burning, visits our bedrooms.
No satellite signpost hauls us, earthbound
but star-struck, half around the world
with hope. Are our sensibilities too blunt
to be assaulted with spatial power-plays
and far-out proclamations of peace?
Sterile, skeptics, yet we may be broken
to his slow, silent birth, his beginning
new in us. His big-ness may still burst
our self-containment to tell us,
without angels' mouths, Fear not.
*
God knows we need to hear it, now,
when he may shatter, with his most shocking
coming, this proud, cracked place,
and more if, for longer waiting,
he does not.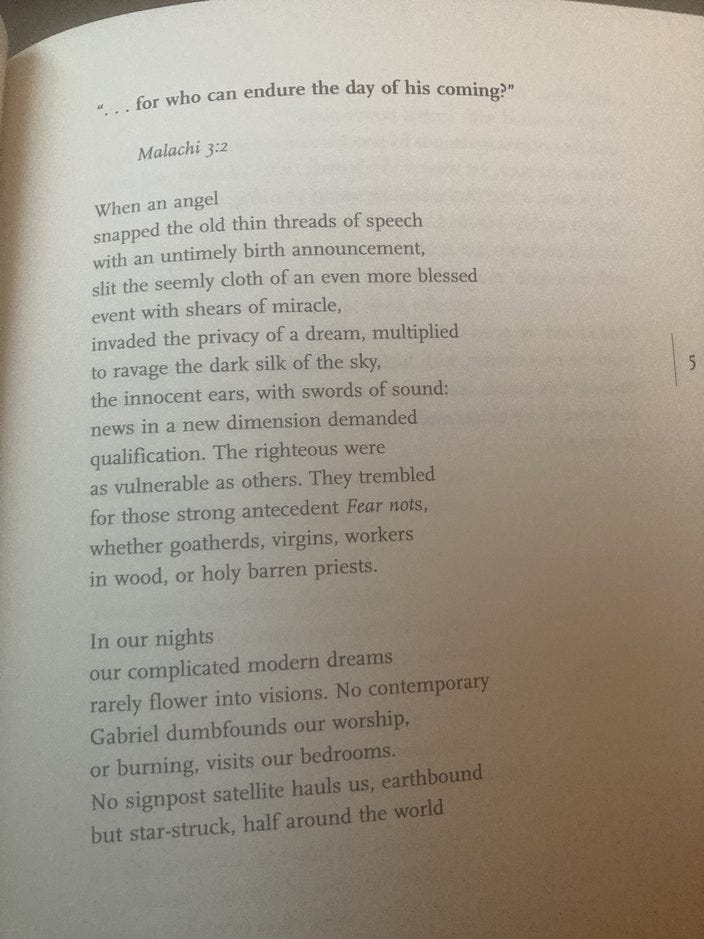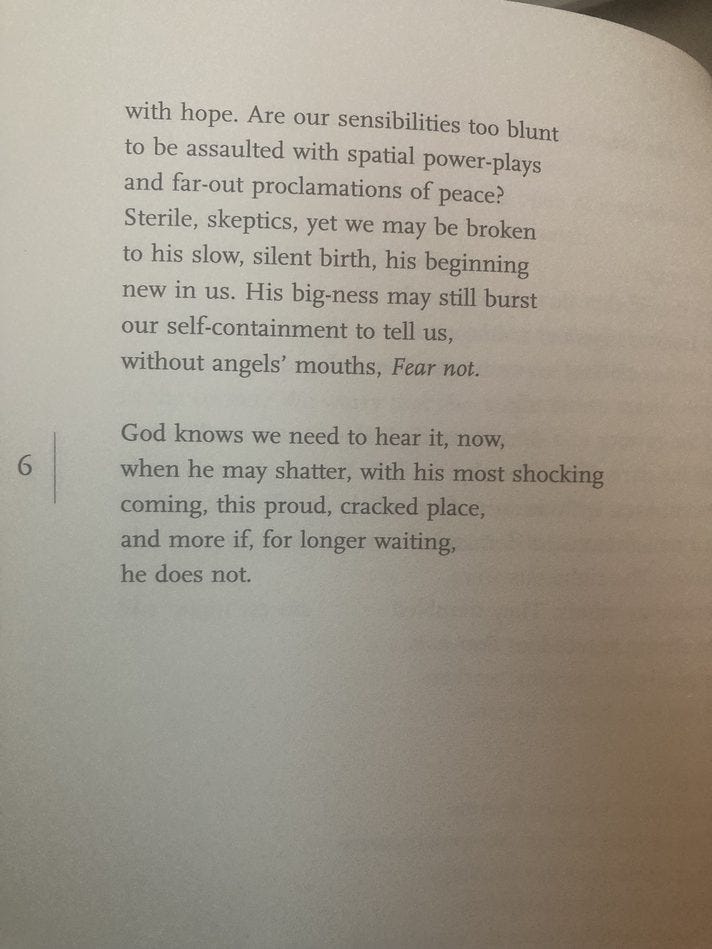 Poem from Accompanied by Angels: Poems for the Incarnation by Luci Shaw (Wm. B. Eerdmans Publishing Co., 2006), pp. 5-6

,

Thank you for being here, dear reader. Your presence is a gift. If this is your first newsletter from me, you probably subscribed from my website, signed up for the free 30 Prayers for When You Feel Lonely and Left Out ebook, my Chai Recipe, When I Write booklet, or another giveaway. I'm so thankful you're here.
I share helpful links, resources, and inspiration once or twice a month, particularly in regard to belonging, identity, culture, faith, race, cultural intelligence, and loneliness. You are welcome to share this newsletter with a friend or anyone you think would enjoy reading. (Make sure you check your spam folder and move this email to your inbox.)

And, I love to hear from you. Hit reply and let me know what beauty you're witnessing around you, what you're reading, or something else that's inspiring you. It makes it feel like we're having a conversation and my words aren't ending in cyberspace. If there's a topic you'd like me to cover, please hit reply and let me know! If you're making your way through the 30 Prayers for When You Feel Lonely and Left Out eBook, I'd love to hear how that's going, too. If at any time this newsletter is not serving you, you can unsubscribe below.

Until next time, remember beauty abounds. What beauty and daily wonders surround you?
Make it a lovely one,
Prasanta
Let's Connect on Social Media
Copyright (C) *|CURRENT_YEAR|* *|LIST:COMPANY|*. All rights reserved.
*|IFNOT:ARCHIVE_PAGE|**|LIST:DESCRIPTION|**|END:IF|*

Our mailing address is:
*|IFNOT:ARCHIVE_PAGE|**|HTML:LIST_ADDRESS_HTML|**|END:IF|*

Want to change how you receive these emails?
You can update your preferences or unsubscribe

*|IF:REWARDS|* *|HTML:REWARDS|* *|END:IF|*